Film art director Lindsay Brunnock sparkled on the red carpet in Moussaieff high jewellery alongside her husband, Sir Kenneth Branagh, for the EE British Academy Film Awards (BAFTA).
She wore a magnificent pair of diamond earrings with a total weight of 16.64 carats, set in platinum.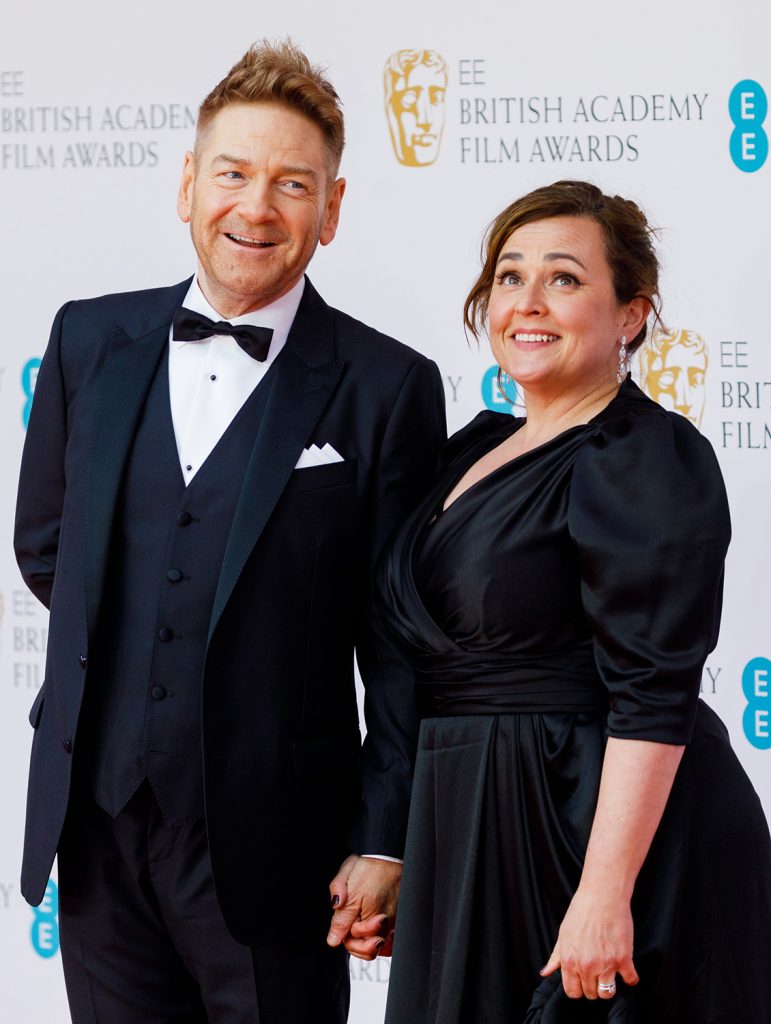 Watch Moussaieff diamonds sparkle on Lindsay Brunnock as she celebrates the announcement of her husband's BAFTA…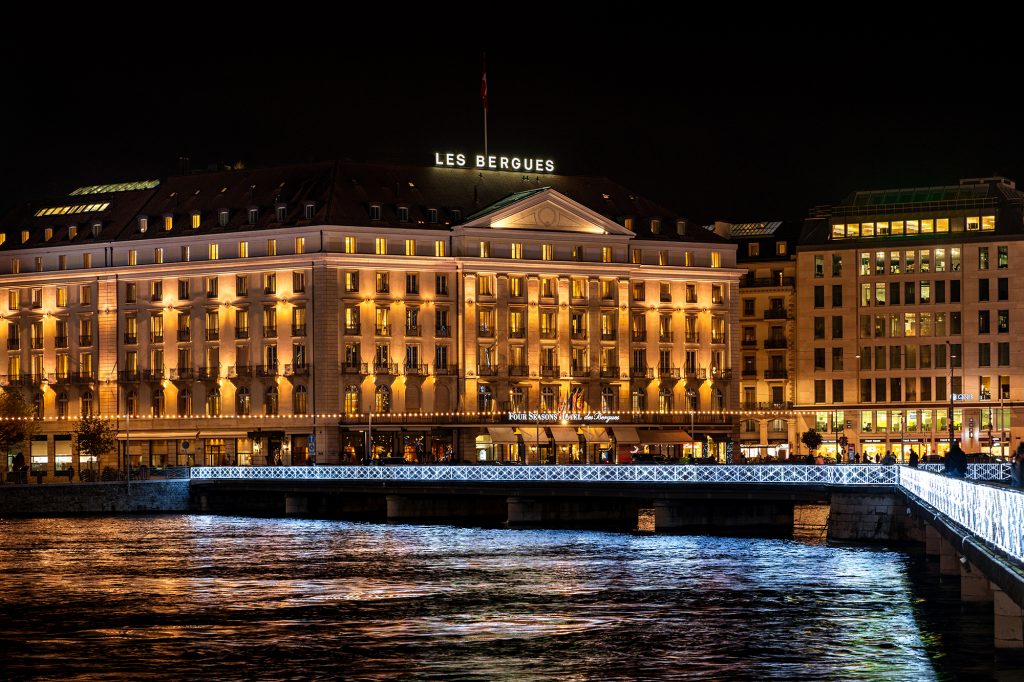 Moussaieff Jewellers has opened a permanent boutique in the Four Seasons Hotel des Bergues, Geneva.
We would love to welcome you for the holiday season and in the future.
Halima Aden attended the British Fashion Awards at the Royal Albert Hall in London on Monday 29 November looking stunning in Moussaieff jewellery.
She wore magnificent high jewellery chandelier earrings with 46.74 carats of diamonds complemented by two diamond rings.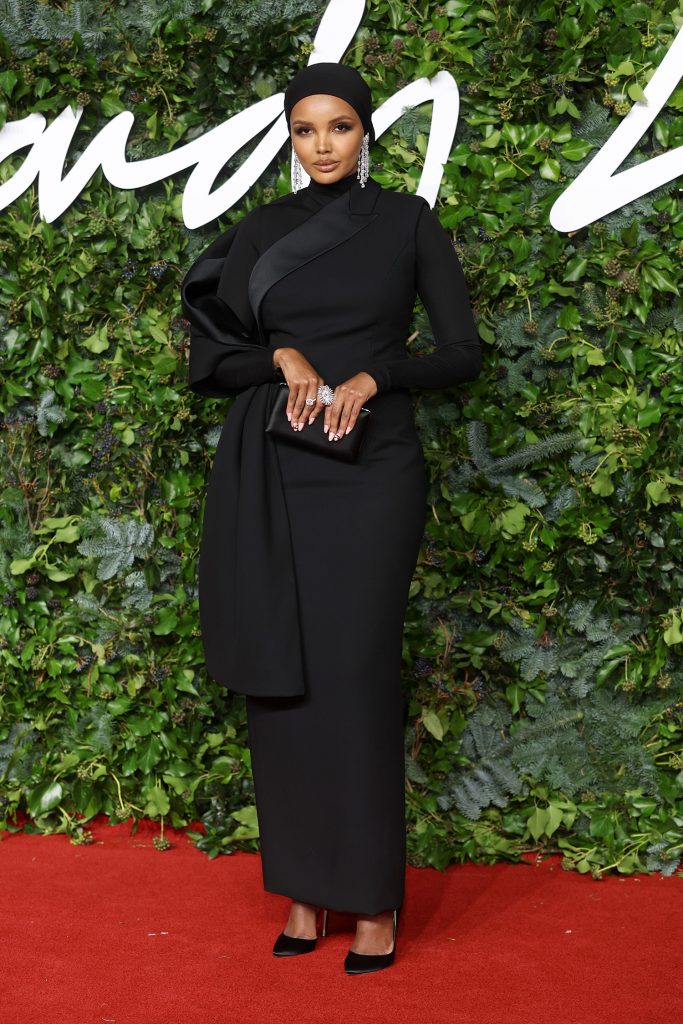 Halima Aden is wearing:
High jewellery chandelier earrings with 46.74 carats of pear and oval shaped diamonds, set in platinum; a diamond cluster ring with a 4.27 carat round diamond centre and a ring with a 5.02 carat cushion shaped diamond, both set in white gold.
Alisa Moussaieff, owner of the House of Moussaieff, is delighted to have been invited to participate in a prestigious new book about sapphires, entitled Sapphire: A Celebration of Colour, by Joanna Hardy.
This book is the third and final instalment in the series on coloured gemstones, created by Violette Editions and in partnership with Gemfields.
Joanna Hardy, the highly regarded jewellery and gemstone specialist, reviews the sapphire's history and takes the reader on a journey from early trade along the Silk Route and the creation of medieval talismans, to the jewellery collections of the great royal houses of Europe and the finest designers at work today.
Alisa Moussaieff talks about collecting gemstones…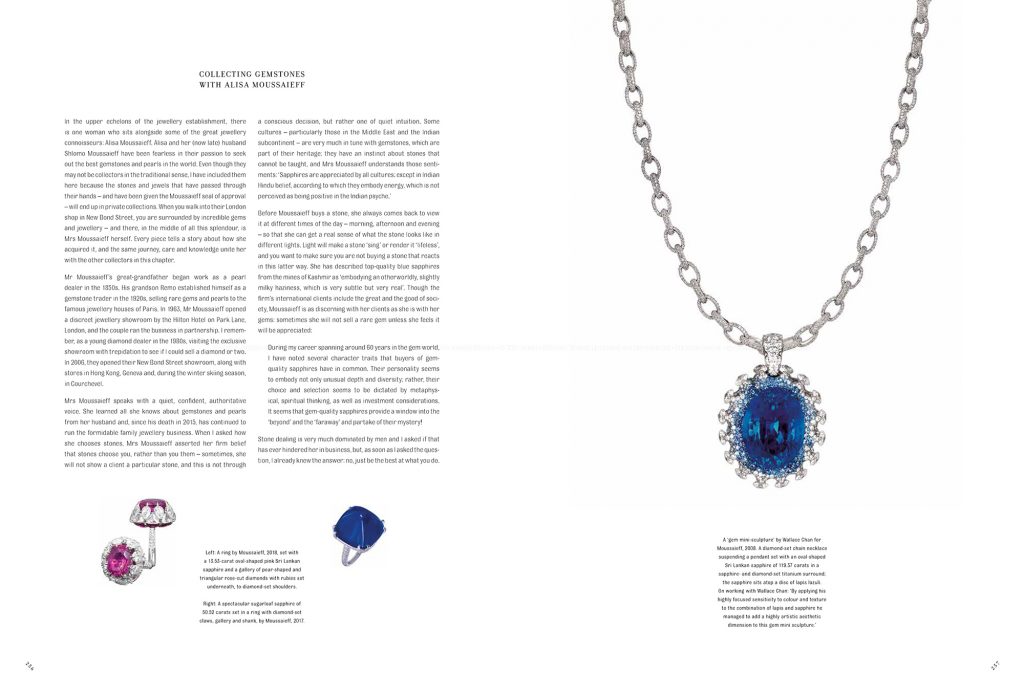 "During my career spanning around 60 years in the gem world, I have noted several character traits that buyers of gem-quality sapphires have in common. Their personality seems to embody not only unusual depth and diversity; rather, their choice and selection seems to be dictated by metaphysical, spiritual thinking, as well as investment considerations. It seems that gem-quality sapphires provide a window into the 'beyond' and the 'faraway' and partake of their mystery!"
Alisa Moussaieff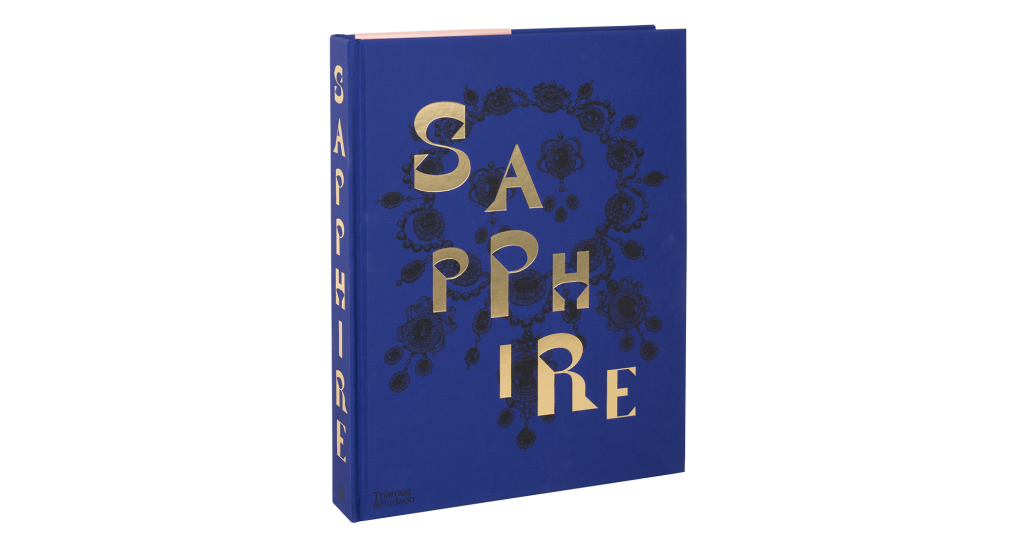 Sapphire: A Celebration of Colour by Joanna Hardy. Published by Thames & Hudson, created by Violette Editions and in partnership with Gemfields.
Featured in the book:
A high jewellery ring with a 13.53-carat oval-shaped pink Sri Lankan sapphire and a gallery of pear-shaped and triangular rose-cut diamonds with rubies set underneath, to diamond-set shoulders.
A diamond-set ring with a spectacular sugarloaf sapphire of 50.52 carats.
A diamond-set chain necklace suspending a pendant set with an oval-shaped Sri Lankan sapphire of 119.37 carats in a sapphire- and diamond-set titanium surround; the sapphire sits atop a disc of lapis lazuli.
Amal Clooney wore our exquisite diamond earrings for the premiere of The Tender Bar, directed by her husband.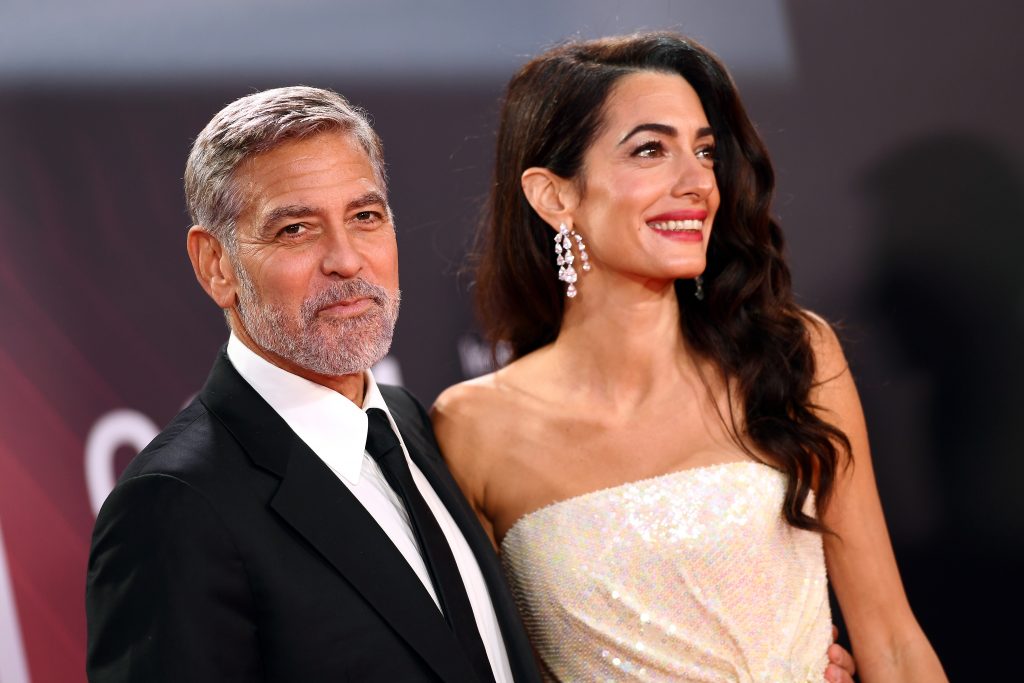 International actress, Michelle Yeoh, looked stunning in Moussaieff earrings at the world premiere of the new James Bond film, No Time To Die.
She wore a magnificent pair of high jewellery diamond hoop earrings at the event which was held at London's Royal Albert Hall on Tuesday 28 September 2021.
Michelle Yeoh is wearing:
High jewellery hoop earrings with 30.37 carats of oval and circular diamonds, of which 12 diamonds D-E-F-G colours, VVS1 – VS2 clarities, mounted in palladium.
High Jewellery diamond pendant necklace with matching diamond earrings from the House of Moussaieff feature in the September issue of Vogue Poland.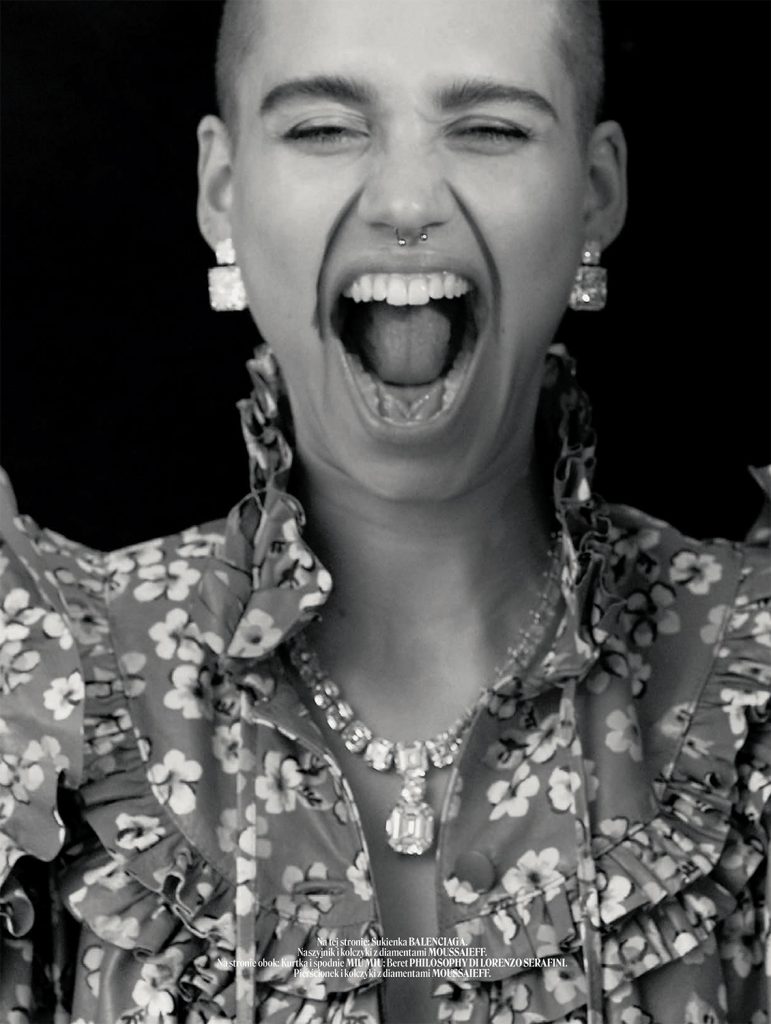 Model is wearing:
Necklace with 146.45 carats of rectangular shaped diamonds and pendant with a 5.05 carat oval shaped diamond and a 32.38 carat rectangular shaped diamond.
Rectangular and square shaped diamond earrings of 52.08 carats.
At the 93rd Academy Awards, nominated actress Maria Bakalova looked stunning in Moussaieff high jewellery.
She wore a classic diamond necklace, accompanied by spectacular pink and white diamond earrings. This was further glamorized by a new creation, a ring with an 8
carat D colour Internally Flawless diamond.
"I feel honoured to be wearing Moussaieff for my first ever Academy Awards ceremony. When I walked into the store I was blown away by how beautiful and intricate the pieces of jewellery are. They sparkle and each piece is so unique and special," said Maria Bakalova.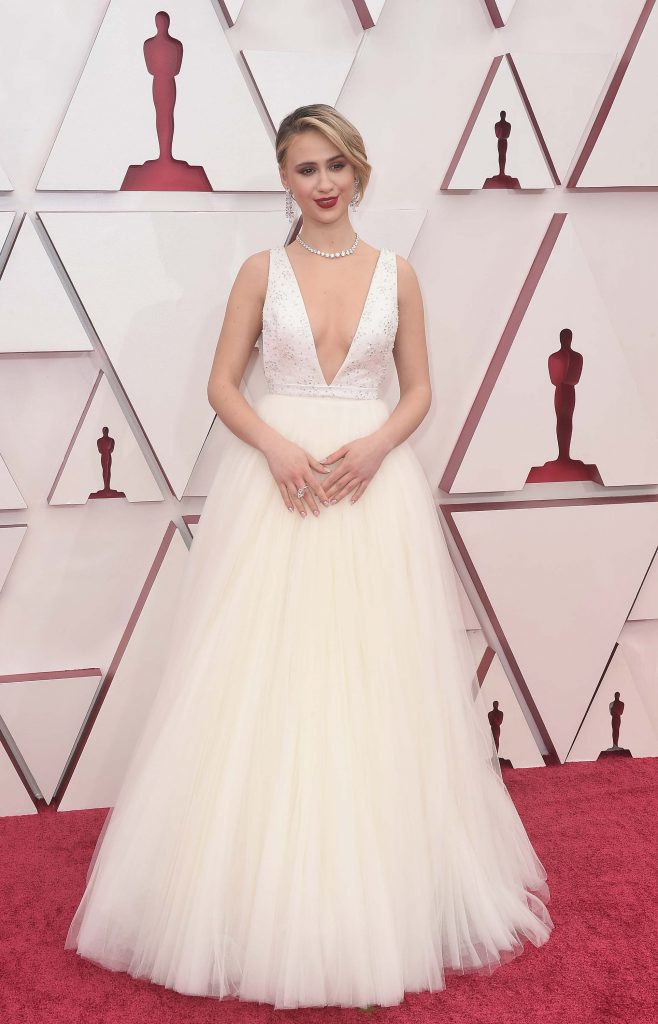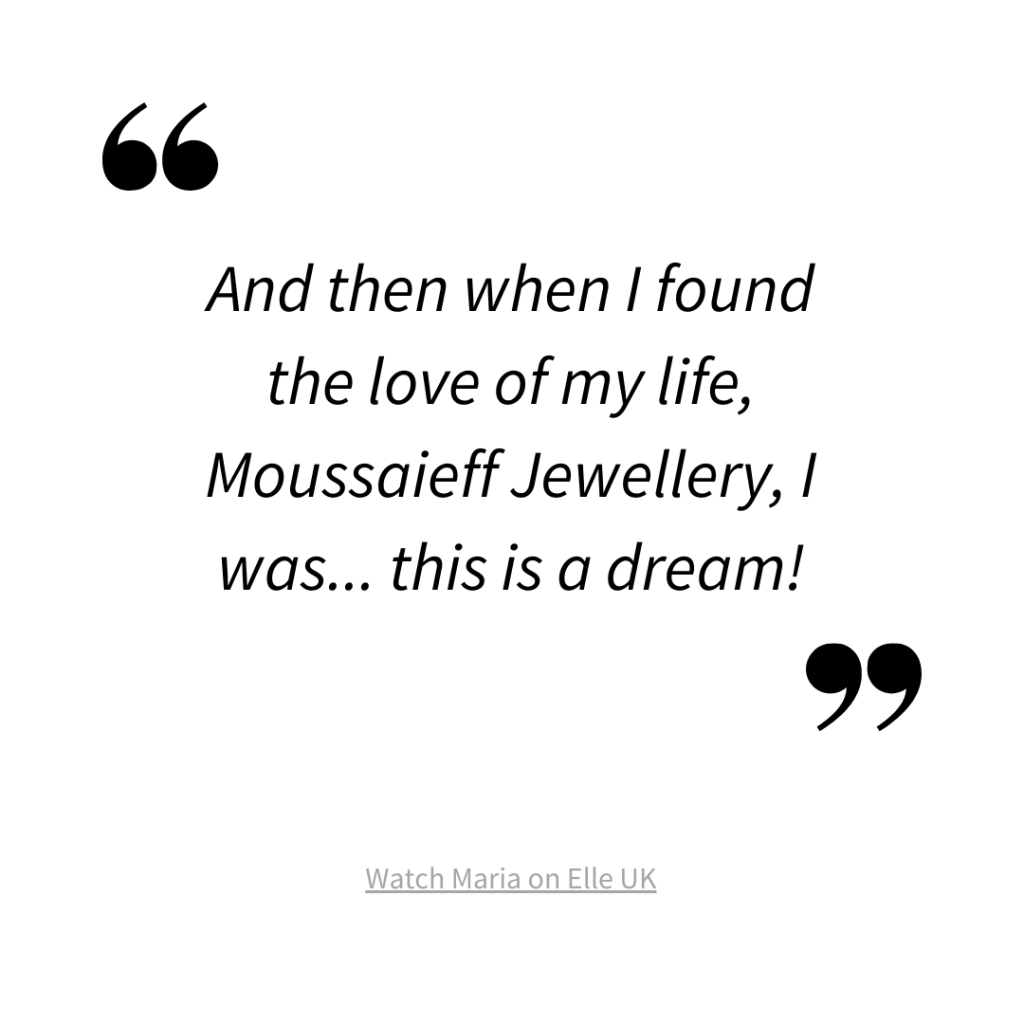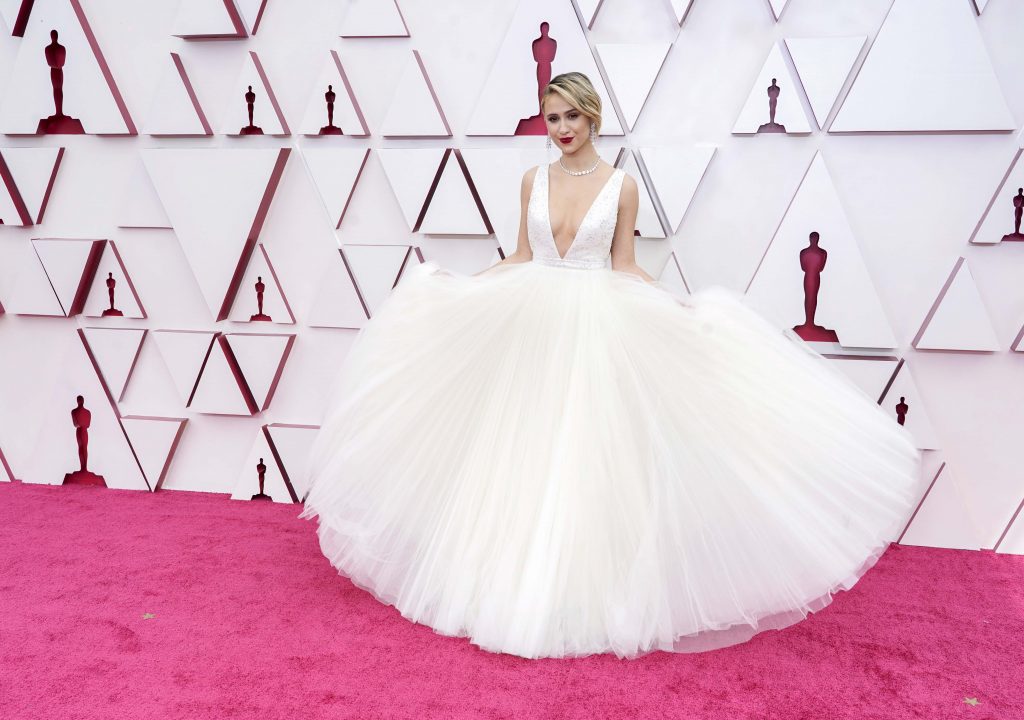 Maria Bakalova is wearing:
Earrings with 4.24cts of Fancy Pink diamonds and 31.24cts of white diamonds.
Ring with an 8.22ct D colour Internally Flawless marquise shaped diamond with white and Fancy Pink diamonds.
Necklace with 75.84cts of D colour Internally Flawless diamonds.

For information, please contact:
violet.fraser@moussaieff.co.uk
Tel: +44 (0)207 290 1534 or +44 (0)7867 514062
High Jewellery diamond ring, necklace, bangles and earrings from the House of Moussaieff feature in the Hia Magazine Jewellery Special.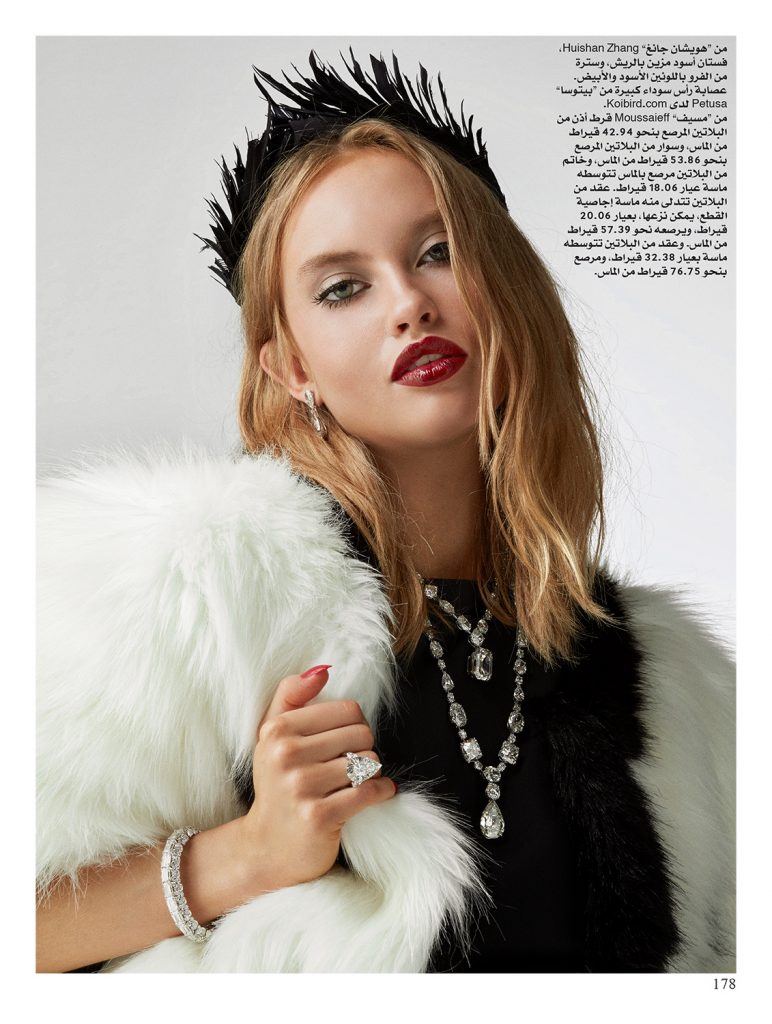 Model is wearing:
Earrings with pear shaped diamonds weighing a total of 42.94 carats.
Bangle with rectangular shaped diamonds weighing a total of 53.86 carats.
Ring with pear shaped diamond weighing 18.06 carats.
Necklace with a rectangular shaped diamond weighing 32.28 carats and a pear shaped diamond weighing 29.06 carats with 134.14 carats of smaller diamonds.
David Warren's move to Moussaieff is major news in jewellery by Carol Woolton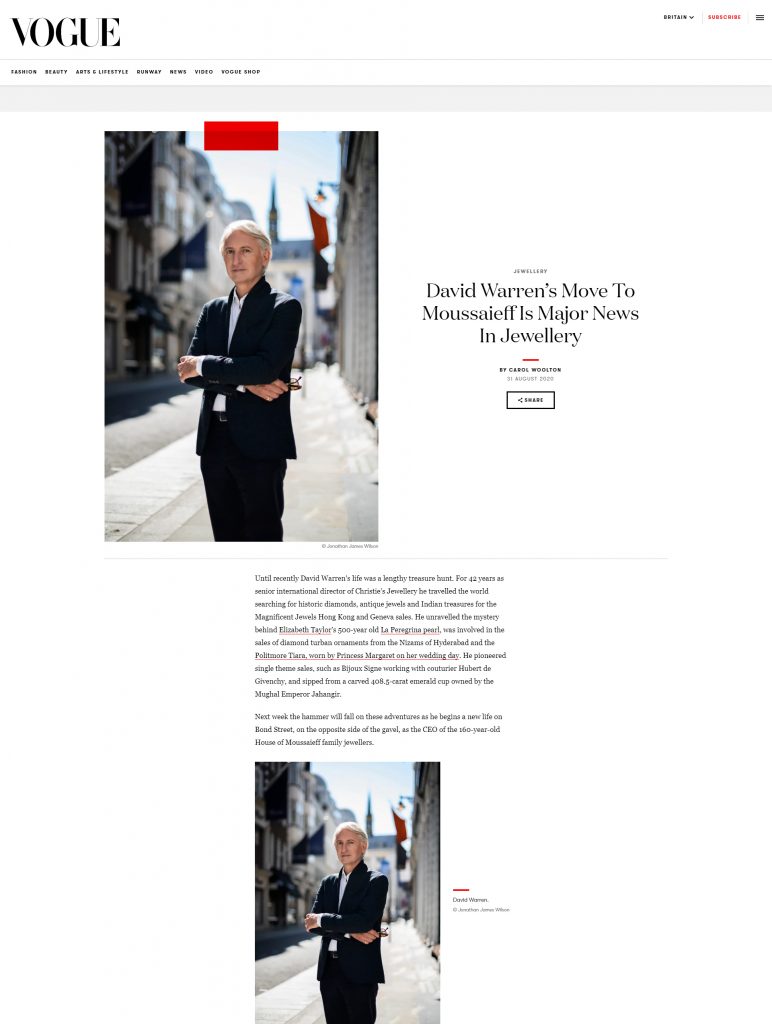 Until recently David Warren's life was a lengthy treasure hunt. For 42 years as senior international director of Christie's Jewellery he travelled the world searching for historic diamonds, antique jewels and Indian treasures for the Magnificent Jewels Hong Kong and Geneva sales.
He unravelled the mystery behind Elizabeth Taylor's 500-year old La Peregrina pearl, was involved in the sales of diamond turban ornaments from the Nizams of Hyderabad and the Politmore Tiara, worn by Princess Margaret on her wedding day.
He pioneered single theme sales, such as Bijoux Signe working with couturier Hubert de Givenchy, and sipped from a carved 408.5-carat emerald cup owned by the Mughal Emperor Jahangir.
Next week the hammer will fall on these adventures as he begins a new life on Bond Street, on the opposite side of the gavel, as the CEO of the 160-year-old House of Moussaieff family jewellers.
It's an unprecedented move for an auction house expert to transfer into contemporary jewels and retail, albeit at the highest and most luxurious end. "I've always wanted a shop," he explains, "and this will feel like my shop because I'm going to put my heart and soul into it."
Read full article: www.vogue.co.uk/fashion/article/david-warren-moussaieff-interview
This article features the following pieces from the House of Moussaieff:
High jewellery brooch featuring over 19-carats of white diamonds, 3.17-carats of yellow diamonds, 29-carats of rubies and 23.33-carats of mixed coloured diamonds, set in titanium.
100-carat D flawless shield-shaped diamond bought by Moussaieff for over $6 million in July 2020.
Bracelet from the Paraiba tourmaline and diamond collection.