David Warren's move to Moussaieff is major news in jewellery by Carol Woolton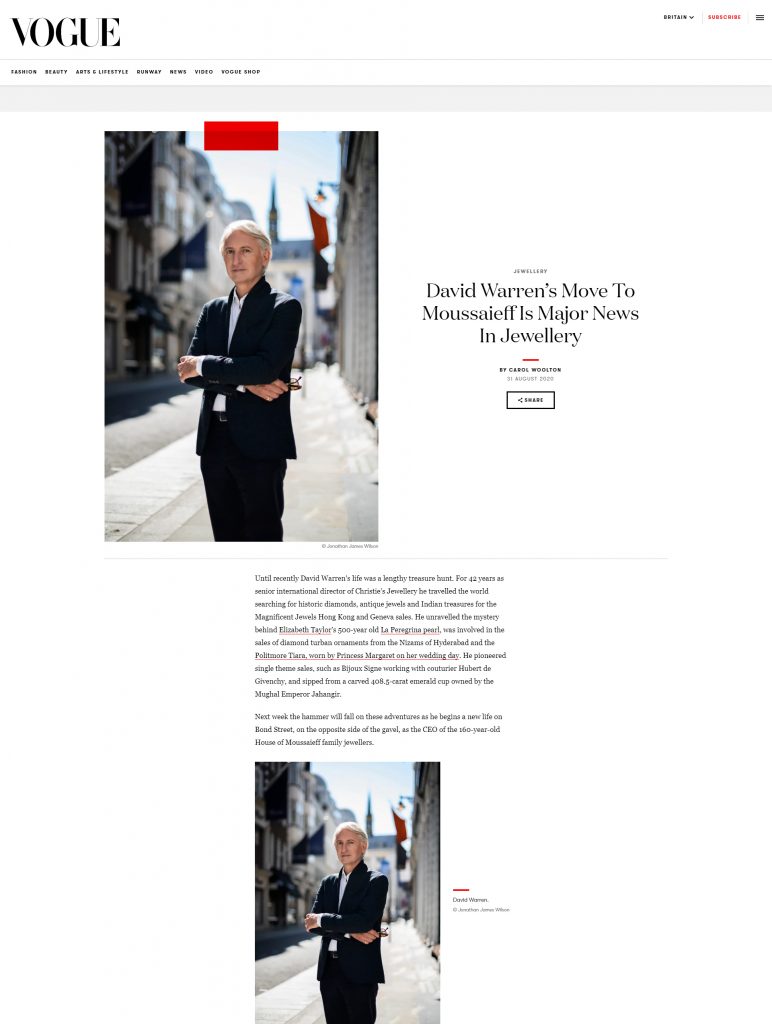 Until recently David Warren's life was a lengthy treasure hunt. For 42 years as senior international director of Christie's Jewellery he travelled the world searching for historic diamonds, antique jewels and Indian treasures for the Magnificent Jewels Hong Kong and Geneva sales.
He unravelled the mystery behind Elizabeth Taylor's 500-year old La Peregrina pearl, was involved in the sales of diamond turban ornaments from the Nizams of Hyderabad and the Politmore Tiara, worn by Princess Margaret on her wedding day.
He pioneered single theme sales, such as Bijoux Signe working with couturier Hubert de Givenchy, and sipped from a carved 408.5-carat emerald cup owned by the Mughal Emperor Jahangir.
Next week the hammer will fall on these adventures as he begins a new life on Bond Street, on the opposite side of the gavel, as the CEO of the 160-year-old House of Moussaieff family jewellers.
It's an unprecedented move for an auction house expert to transfer into contemporary jewels and retail, albeit at the highest and most luxurious end. "I've always wanted a shop," he explains, "and this will feel like my shop because I'm going to put my heart and soul into it."
Read full article: www.vogue.co.uk/fashion/article/david-warren-moussaieff-interview
This article features the following pieces from the House of Moussaieff:
High jewellery brooch featuring over 19-carats of white diamonds, 3.17-carats of yellow diamonds, 29-carats of rubies and 23.33-carats of mixed coloured diamonds, set in titanium.
100-carat D flawless shield-shaped diamond bought by Moussaieff for over $6 million in July 2020.
Bracelet from the Paraiba tourmaline and diamond collection.